Marina Abramović is dubbed "the grandmother of performance art," not only is she a pioneer within the realm of audience participation but also a beloved and prolific creative force—with five decades of artistic expression standing majestic in her wake. To some, she may be best known to many for her 2010 performance The Artist is Present, which went viral over the internet worldwide. However, her performance art beginnings are just as revolutionary, if not more so. Renowned for her fearless capacity to test the limits of her body and mind, Abramović invites us to explore the relationship between performer and audience with absolute artistic dedication. Here, we delve into some of her most notorious moments and discover a little of the story behind how such a phenomenal creative talent came to be.
Seeking Freedom in Art
Marina Abramović was born in Belgrade, Yugoslavia, in 1946. Her formative years were spent in relative privilege but emotional complexity. The young creative was the daughter of war heroes, who received high-level government positions and accommodation in recognition of their contribution to Tito's former Yugoslavia. Abramović's mother, the director of the city's Museum of Art and Revolution, was simultaneously encouraging of her daughter's artistic nature while stern and sometimes physically abusive.
Existing between juxtaposed forces, Abramović was given her own studio in which to create and yet was subject to the strictest of rules. Until the age of twenty-nine, she was bound to meet a 10 pm curfew by her parents. Within the confines of such a regimented home life, she found freedom in a radical art group and her love of performance. Abramović studied at the Academy of Fine Arts in Belgrade, graduating in 1970, and spent a spell away from home in Croatia, where she completed post-graduate studies at the Academy of Fine Arts in Zagreb in 1972.
"I'm interested in nature and people from different cultures who push their bodies and their minds in a way we don't understand. I expose myself to life, and from that, ideas come as a surprise. I totally dismiss the ones that are pleasant and easy. I'm only interested in the ones that really disturb me and that I get obsessed about. They're what bring me to new territory. When I say, "Oh my God, shall I do that?" I know I have to." – Harvard Business Review interview with Marina Abramović.
Rhythm And Reaction
Through the mid-1970s, Abramović staged a series of performances, each named Rhythm, followed by a non-sequential number. In Rhythm 10, she explored elements of ritual and gesture, recording, and enacting a Russian game involving jabbing knives between her splayed fingers. Of her injuries, she explained: "Once you enter into the performance state you can push your body to do things you absolutely could never normally do."
Next, in Rhythm 5, she staged a piece that culminated in her stepping into the middle of a blazing star of ignited petroleum on the floor. In this performance, she lost consciousness, and her audience intervened. Speaking of the experience, Abramović expressed a sense of frustration: "I was very angry because I understood there is a physical limit. When you lose consciousness, you can't be present, you can't perform." The artist's loss of consciousness would return as a theme for Rhythm 2 and Rhythm 4, which saw Abramović move in and out of the present moment as a result of ingesting various medications and standing before a powerful industrial fan.
With Rhythm 10, Abramović achieved a new level of public attention. Fascinated by the way that her audience responded to her performances, Abramović devised a scenario that would invite direct participation. Remaining passively within the exhibit space for six hours, the artist was encountered by an audience who discovered 72 objects on a table at their disposal, including scissors, a scalpel, and a gun. While the performance began innocently, the actions of the audience took a more sinister turn as it progressed. By the end, Abramović had experienced the cutting of her clothes and skin and had felt the gun held to her head. When she stood, after the sixth hour had elapsed, her audience scattered to avoid her confrontation.
Marina Abramović and Uwe Laysiepen
In 1976, Abramović resolved to remove herself from her parents' shadow and moved to Amsterdam. Here began one of the art world's most captivating love affairs when she met West German performance artist Uwe Laysiepen, who performed under the name Ulay. The two soon began living and working together, mounting dual performances that explored concepts of ego, identity, gender, spirituality, and non-verbal communication under the title Relation Works. The pair began describing themselves as a single entity dubbed "The Other." After more than a decade of collaboration, in 1988, Abramović and Ulay brought their existing relationship to its conclusion through art. In a piece called Lovers, they each walked 2500 km from the ends of the Great Wall of China to meet in the middle.
It had taken eight years to gain permission from the Chinese government to perform the piece, for which the intended culmination had been for the duo to marry when reunited. However, by the time their plan was executed, they instead chose to separate. In 2010, when Abramović mounted her performance, The Artist Is Present at the Museum of Modern Art in New York, the now estranged Ulay made an unexpected appearance. Over the course of three months and a duration of 736 hours of static silence, Abramović invited the public to sit wordlessly across from her at a table. She stared into the eyes of 1,545 visitors, attracting overnight queues. When Ulay appeared across from the artist, she reacted emotionally, taking his hand. The moment was captured on video and took on a viral life of its own as countless viewers shared it online.
"I was with Ulay for 12 years. He was the love of my life. And then he sued me. It was terrible – I lost on every point. I was incredibly angry. But then one day I opened my eyes and said, "OK, I lost. What's next?" And what was next was forgiveness." – The Guardian interview with Marina Abramović.
A Curator of Conscience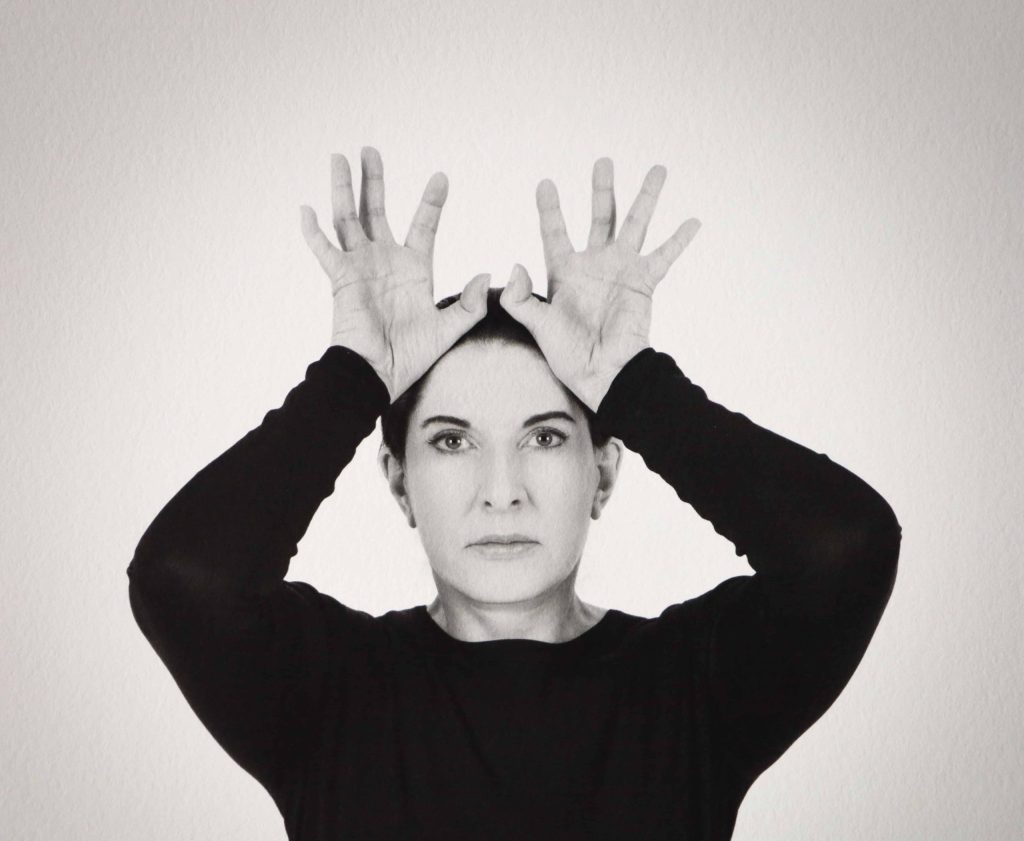 Among several of Abramović's notable performances, a strong moral theme takes center stage. For example, her 1997 performance Balkan Baroque saw her spend four days atop a bloody mound of 2.5 metric tons of cow bones, tirelessly scrubbing in an effort to cleanse the bones as they pungently decomposed. The piece aimed to shed light on the ethnic cleansing that had taken place in the Balkans during the 1990s and earned Abramović the Golden Lion award at the Venice Biennale. In 2018, she partnered with Acute Art to create a virtual reality version of herself trapped within a slowly filling glass tank—serving as a metaphor for the melting polar ice caps. Virtual participants could avert the tank's filling by pledging to support the environment, saving the digital Abramović from drowning.
In 2020, her first major exhibition at the Royal Academy of Arts in London was postponed due to the Coronavirus pandemic. The highly anticipated show, which will feature the artist's performance over the course of two and a half months, marks the first solo show of a woman at the esteemed centuries-old Academy. Speaking of the appearance, Abramović joked that all the windows need to be opened to clear the building of testosterone. Speaking to the Guardian, she said, "As the first woman, I have to deliver something which is even better than a man." But of course, what she will ultimately deliver is something far more memorable—something Marina Abramović—which will be as unique as it is treasured for all lucky enough to be able to meet her invitation.