Carrying the torch of M.C. Esher, Cinta Vidal Agulló's paintings are a complex feast of multi-directional stimulation. However, Vidal takes the art of illusion in a far more personal direction—asking us to not only question the physical bounds of reality but to examine our emotional perception of and perspective on all that surrounds us. Her creations have a softness to them—a kindness of mood—while being breathtakingly intricate and psychologically complex. In beholding them, we as her audience are drawn into a curiosity-spurned navigation as we discover each of the myriad realities before us.
Cinta Vidal Masters Many Scales
Born in 1982, Cinta Vidal's affinity for drawing manifested energetically in childhood. She sketched her holiday surroundings, copied illustrations, and took on any other subject that piqued her interest. The young artist followed her passion, studying illustration at Escola d'Art Massana in Barcelona. At the age of 16, her talent earned her a position working part-time at the renowned scenography atelier, Taller d'Escenografia Castells Planas. Here, in parallel to her academic path, Vidal learned the trade of painting theater and opera backdrops. Studying this craft under notable mentors, Josep and Jordi Castells, she cultivated a broad stylistic range that would serve her well in the years to come.
This impressive path into the art world served as a springboard for Vidal, who has built an impressively diverse career. Her creativity and ability, realized through scenography projects for an international array of professional productions, freelance advertising projects, show series, and commissions, merges into a fascinating artistic repertoire. While the artist's growing global acclaim is mainly for her finely crafted acrylic paintings, created on wooden panels, her abilities in painting at scale are also in high demand. The artist has honed the ability to switch between intricate paintwork, delivered with minutely controlled movements, and vast canvas pieces created using broomstick-sized brushes and strokes requiring large arm movements.
"I like to play with gravity since it is such a sacred law, and playing with it can have astonishing results. I set elements in different orientations in order to talk about the different points of view we all have in our environments. We will never be able to see all points of view at the same time. They all exist, but we must choose one, and I think this happens constantly in life." – Juxtapoz interview with Cinta Vidal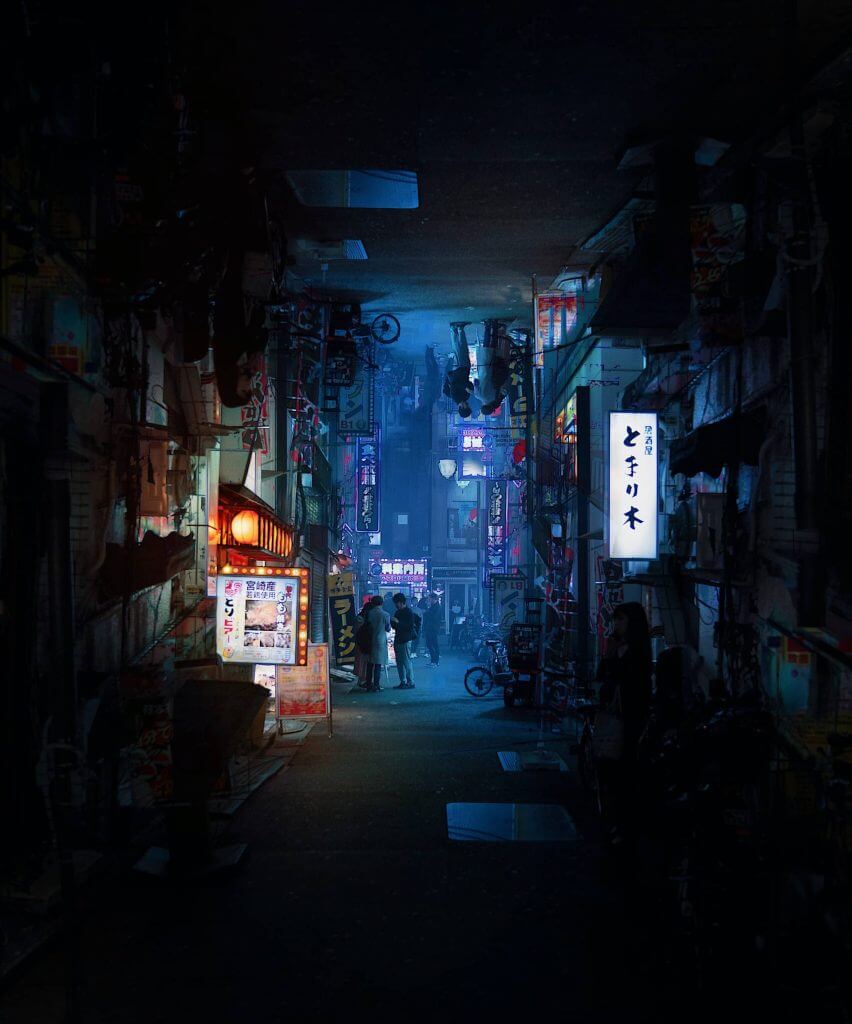 Un-Gravity Constructions
Cinta Vidal uses the phrase un-gravity constructions in reference to her personal body of work. Each composition encapsulates various intersecting scenes, with each subject facing a different gravitational direction. Through this deconstruction of real, familiar scenarios, Vidal demonstrates that, while we all live in the same reality, we each inhabit and experience it very differently. She also touches on the notion that it is impossible for us to completely understand everything that goes on in the world that we navigate through. In parallel, her gravity-defying constructions serve as a metaphor for the challenge we all experience in trying to combine the many desired facets of our lives.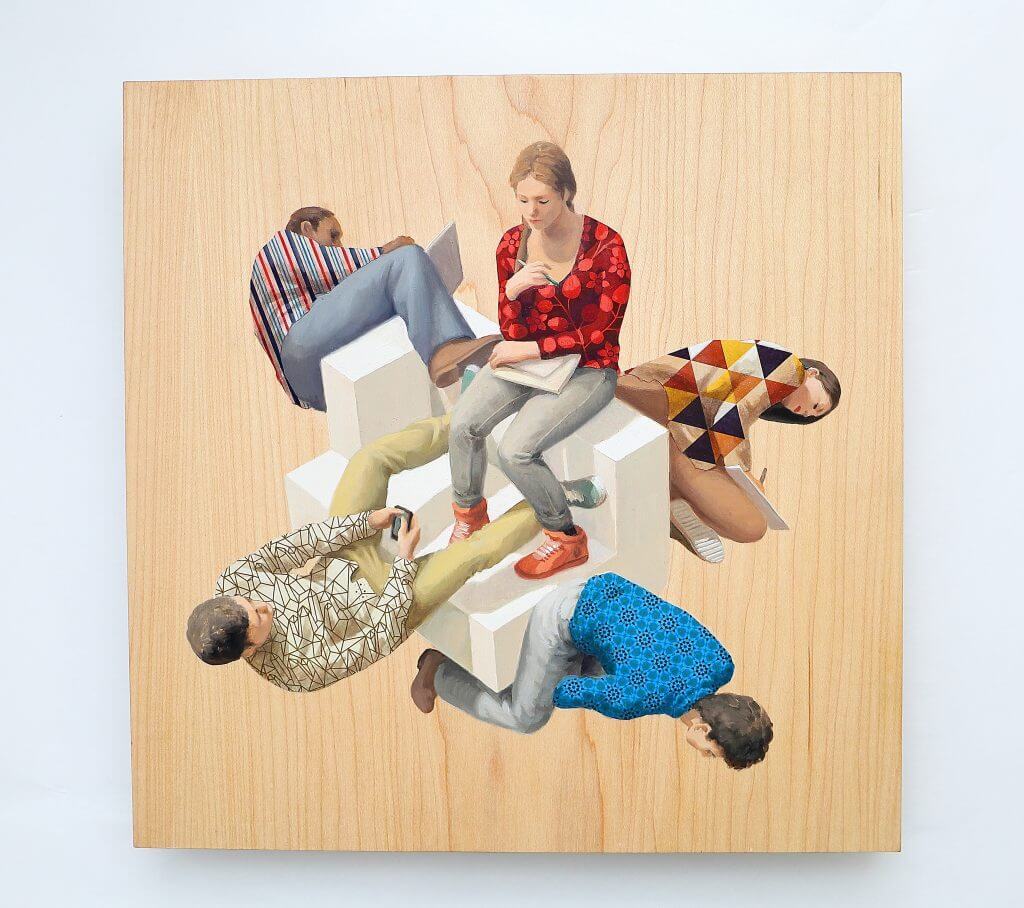 While such ideas could be explored through abstraction, Vidal demonstrates her phenomenal mastery as a figurative painter. The architectural element of her constructs appears to only deepen in complexity the longer one explores her pieces. In pursuing such realistic portrayals, she describes a desire to elicit familiarity in her audience. In beholding the every day—but now presented in a vastly different, unstructured, and broken way—the audience is encouraged to find their own perspective and ponder its relationship with the perspective of others.
"With these un-gravity constructions, I want to show that we live in one world, but we live in it in very different ways – playing with everyday objects and spaces, placed in impossible ways to express that many times, the inner dimension of each one of us does not match the mental structures of those around us. The architectural spaces and day-to-day objects are part of a metaphor of how difficult it is to fit everything that shapes our daily space: our relationships, work, ambitions, and dreams." – Hi-Fructose interview with Cinta Vidal
A Global Audience
Alongside the intimate works seen in her gallery shows and her theatrical scenography, Vidal's large-scale murals can be found within urban landscapes across Europe, the United States, Japan, and Hong Kong. Her collaborative projects have included a 2012 iPhone game called Sr. Mistu, two label design collabs with Sant Jordi craft beer and winemaker Moscatell i Garnatxa de l'Empordà, and the creation of a 500-piece puzzle in partnership with toy brand Löndji. Vidal responded to the first lock-down of the pandemic in spring of 2020 by releasing a series of black and white un-gravity illustrations on her website that fans could print and color. While Covid-19 may have slowed the artist's permeation into the collective consciousness just a little, it feels certain that the visions of Cinta Vidal are only just beginning to make their mark, and the world is better for it.
Read more about the artist Cinta Vidal on her website. Discover the Cinta Vidal "Nearby" oil on wood panel here.